Branded Slots: Good for Developers, Not So Much For Players
Categories:
News
|
Published by:
admin
Think of branded slots as adaptations. These online slot games base their themes and designs on popular franchises, whether it be music, movies, video games, or TV shows.
Spinning the reels to a Jimi Hendrix banger sure sounds fun, but most players are not aware of the many complications that go along with branded slots. Some of them will directly affect your winning or even whether you can play the games at all.
The Problem of Licensing Fees in Branded Slots
To make a branded slot game, developers have to pay a percentage of the profit to the owner of the 'brand' as licensing fee. This fee is usually compensated by lowering the RTP. As a result, many branded slot games have a lower RTP than the standard 96%
Wonder Woman: RTP=95.34%
Kong: RTP=95.50%
The Mummy: RTP=92.02%
Players who are strict with their money tend to avoid branded slots. The licensing fee is such a big problem that many branded slots have been discontinued because of it, such as:
The Avengers
Fantastic Four
Ghost Rider
Branded Slots Have More Restricted Availability
Even normal slots are unavailable in some countries or regions because of licensing agreements with online casinos and software developers. When it comes to branded slots, the availability is even more restricted due to additional agreements with entertainment companies.
When a new hot branded slot is coming out, don't be too excited before you check if it's available in your region.
What are the Effects of Branded Slots On the Online Slot Game Industry?
Branded slots attract people in the same way movie sequels do: taking advantage of an already existing audience. That's why developers love them. Make a slot after the latest blockbuster and millions of people can't wait to play it. For this reason, branded slots do a great job at introducing new players to the online slot community.
However, many branded slots are often lazy cash grabs. Because developers know people will turn up to play these games for the franchises, they don't have to put as much effort into the slots' quality. As a result, you will find many branded slots with bad graphics and boring gameplay. They may include the basic features like Wild, Scatter and Free Spins, but rarely do something innovative.
The slot game industry is only where they are now because of pioneering slots in the past who came up with original, creative features to change the slot game landscape for the better. In this regard, branded slots don't really contribute much to take slot games to the next level.
How to Choose the Best Branded Slots to Play
Not all branded slots have a low RTP. You should choose slots based on the most popular franchises. That way, there are enough people playing them so the developers don't have to sacrifice as much RTP to make a profit.
Here are a few branded slot games with an RTP higher than the 96% standard:
Aliens (NetEnt): RTP=96.40%
Guns N' Roses (NetEnt): RTP=96.98%
Hugo (Play'n Go): RTP= 96.40%
Recommendations of Branded Slots by Category
Cartoon – Rick and Morty Wubba Lubba Dub Dub – Blueprint Gaming
Rick and Morty Wubba Lubba Dub Dub is based on the famous science fiction cartoon. The graphics truly live up to the quality of the original show. Unlike many run-off-the-mill branded slots, this game has highly creative gameplay with a massive variety of Bonus Features.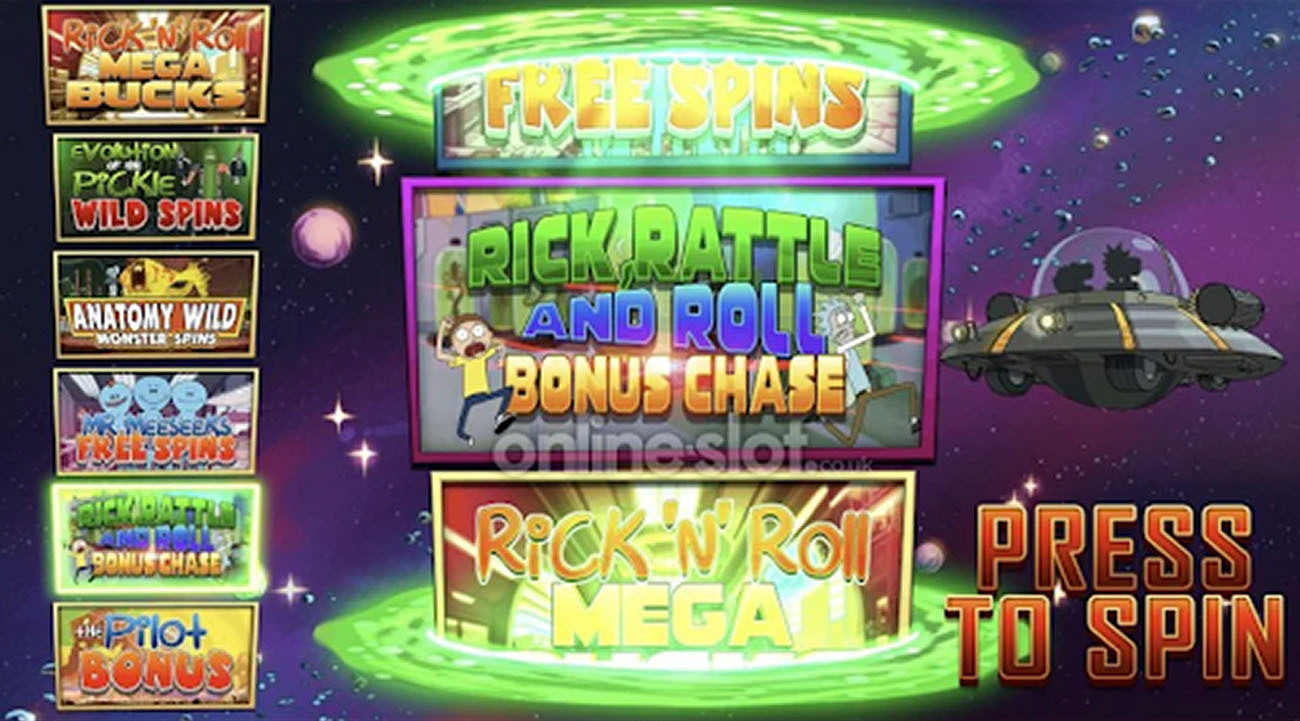 When players enter the Bonus Round, they are randomly awarded with 1 out of 6 features! You can play this slot for a long time and still discover new things about it.
Game – Street Fighter II: The World Warrior – NetEnt
Street Fighter II: The World Warrior offers a sweet dose of nostalgia with identical graphics to the original game. The game has 8 characters with Car Smash Bonus Game and Beat The Boss Free Spins.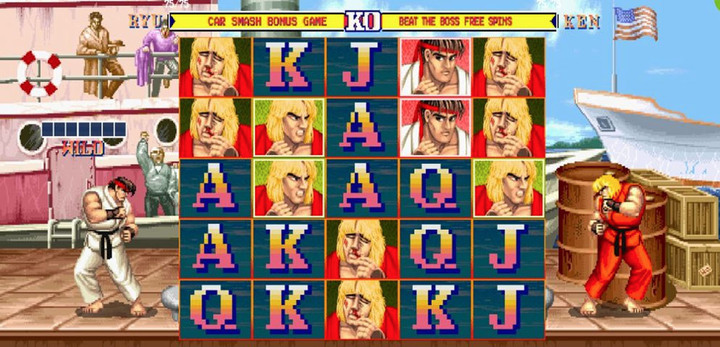 Each character activates a different ability:
| | |
| --- | --- |
| Dhalsim | places 3 or 4 random wilds on the reels |
| E. Honda | places 3 wilds on the same reel |
| Ryu | places 3 wilds on the same row |
| Guile | places 2 vertical stacks of 2 wilds on the reels |
| Zangief | places 2 horizontal stacks of 2 wilds on the reels |
| Chun Li | places 2 or 7 wilds randomly on the reels |
| Blanka | places 1 or 5 wilds on the same reel |
| Ken | places 1 or 5 wilds on the same row |
Music – Guns 'n Roses – NetEnt
Net Entertainment knows how to make a good branded slot. Fans of the legendary rock band will certainly be satisfied with Guns 'n Roses, especially for its music. The game makes you feel like standing in the front row of a Guns 'n Roses concert.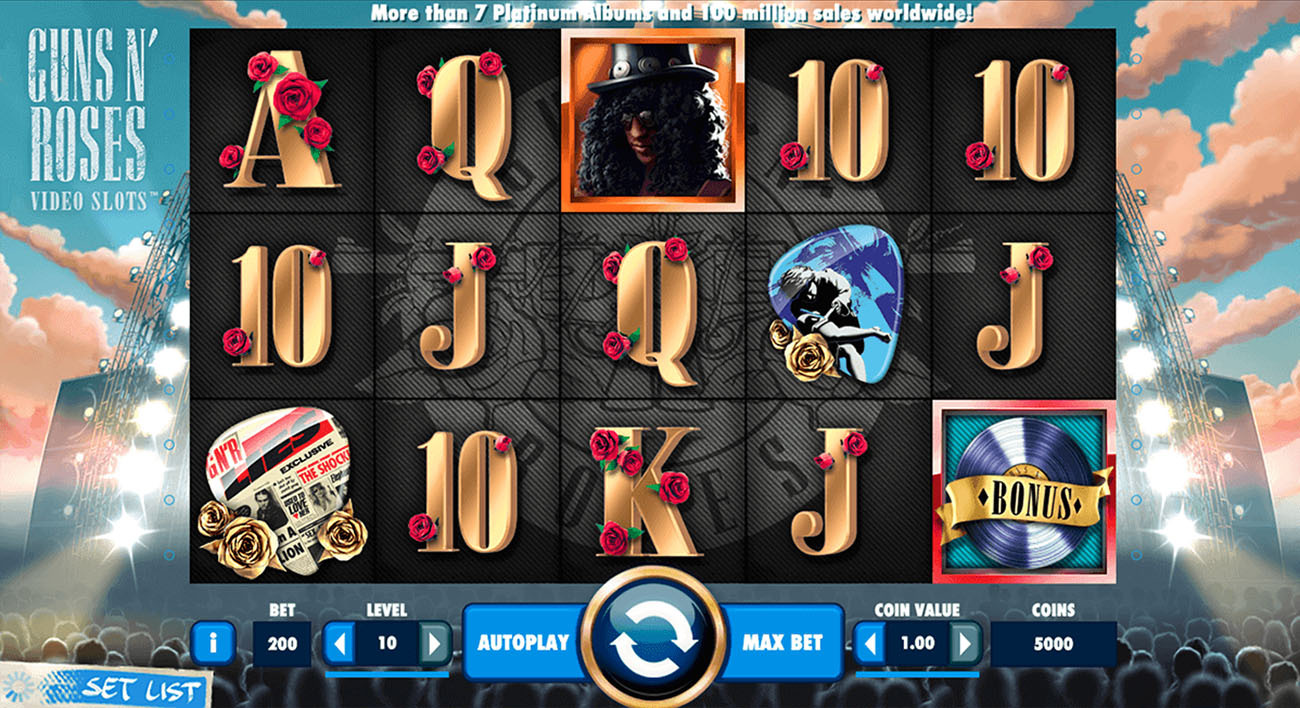 With a respectable 96.98% RTP, Guns 'n Roses can be appreciated by all players, even those who don't know the band. The Encore Free Spin is the most intriguing feature of the game. With each free spin, one of the band members lands as a stacked wild on reels 2, 3, or 4.
Movie – Jurassic Park – Microgaming
Almost everyone can remember that moment when they watched Jurassic Park for the first time. The slot game with the same name from Microgaming does a wonderful job at recreating that intense feeling.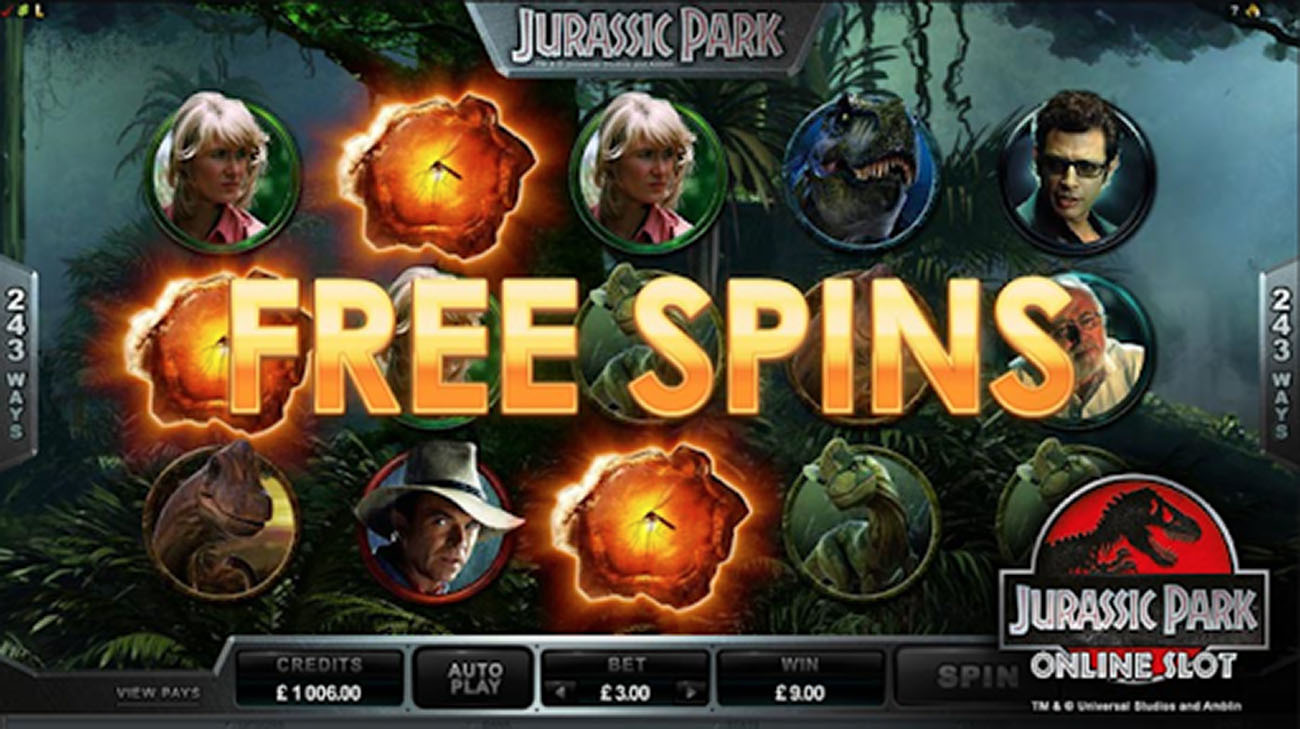 The stats for Jurassic Park speak for themselves, with 243 paylines, an RTP of 96.67% and x14,000 the bet as the max win. The gameplay packs tons of thrill, having 6 types of dinosaurs as 6 modes of Free Spins.
Dealing with dinosaurs, the stakes are always do or die. Jurassic Park reflects this mantra in its super high volatility, leaving all fans of the film on the edge of their seats.
Play Jurassic Park for Real Money
Sport – It's Time – Relax Gaming
It's Time is a medium-variance slot that takes players to the world of Mixed Martial Arts. The symbols are fighters in different weight classes, with the top one being Bruce Buffer—the iconic commentator for the UFC.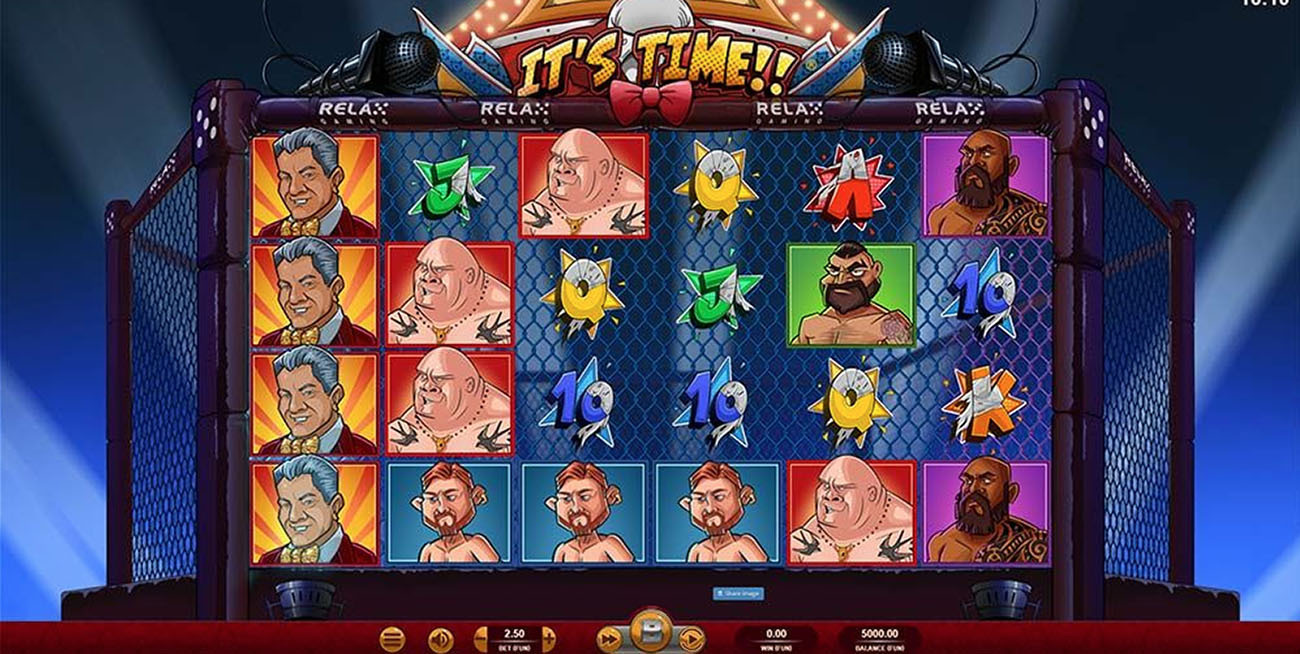 It's Time comes with many features that fit the theme perfectly, such as:
Slam Dunk Diagonal
Left Hook
Right Hook
It's Time captures the atmosphere of an MMA octagon perfectly while giving it a cartoonish touch. That way, everybody can enjoy the game without fear of bloodshed and gore.
Reality Shows – Survivor Megaways Big Time Gaming
Fans of the show Survivor will be very pleased to discover this Megaways slot from Big Time Gaming. The graphics in Survivor Megaways are outstanding with a unique layout: The reels are divided into 3 separate sections, the middle one being the extra reel.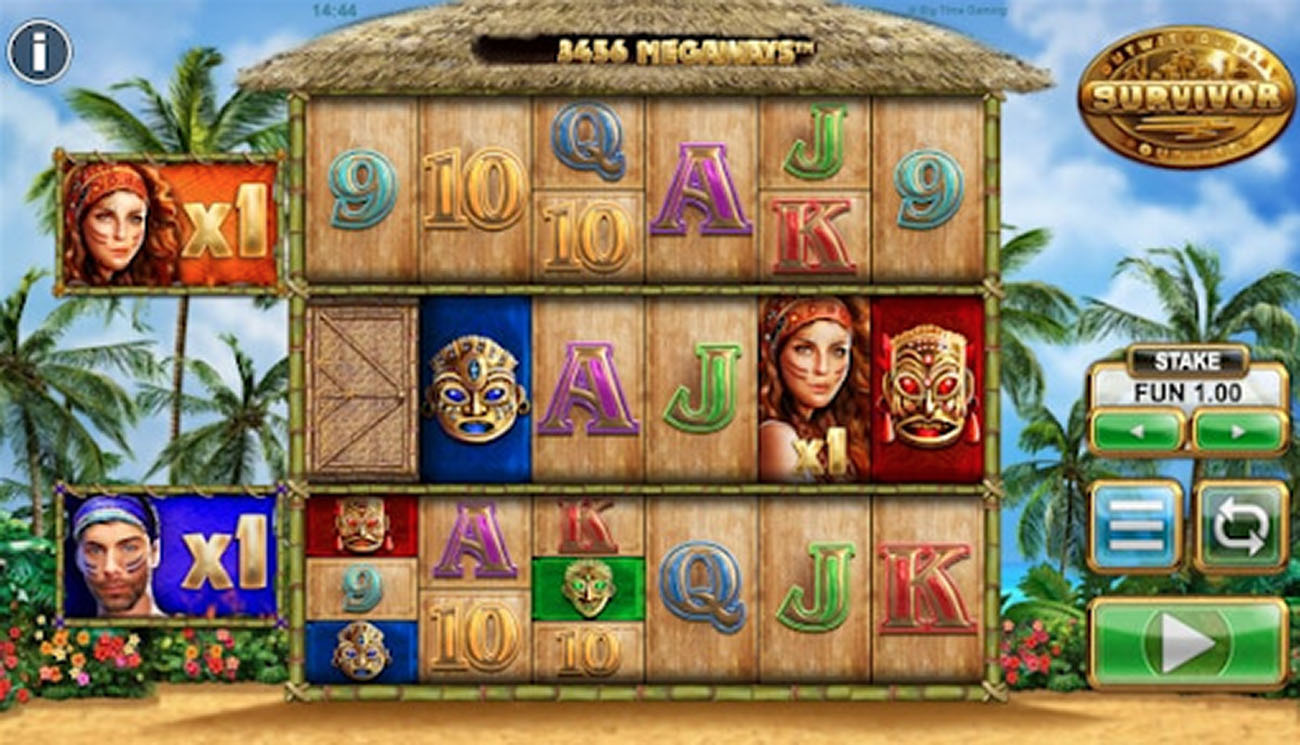 The Cascade effect in Survivor Megaways opens the door for multiple consecutive wins, while the two tribal leaders on the left carry Multipliers. Survivor Megaways is no lazy cash grab. The game takes utmost care in every detail to make sure it lives up to the success of the original show.
TV Series – Game Of Thrones 243 Microgaming
Time for some cunning deceptions, manipulations and epic battles—the iconic show is rebranded masterfully in Game of Thrones 243. Microgaming went for a classic design with 3 rows and 5 reels, along with an equally classic soundtrack that is the score to Game Of Thrones itself.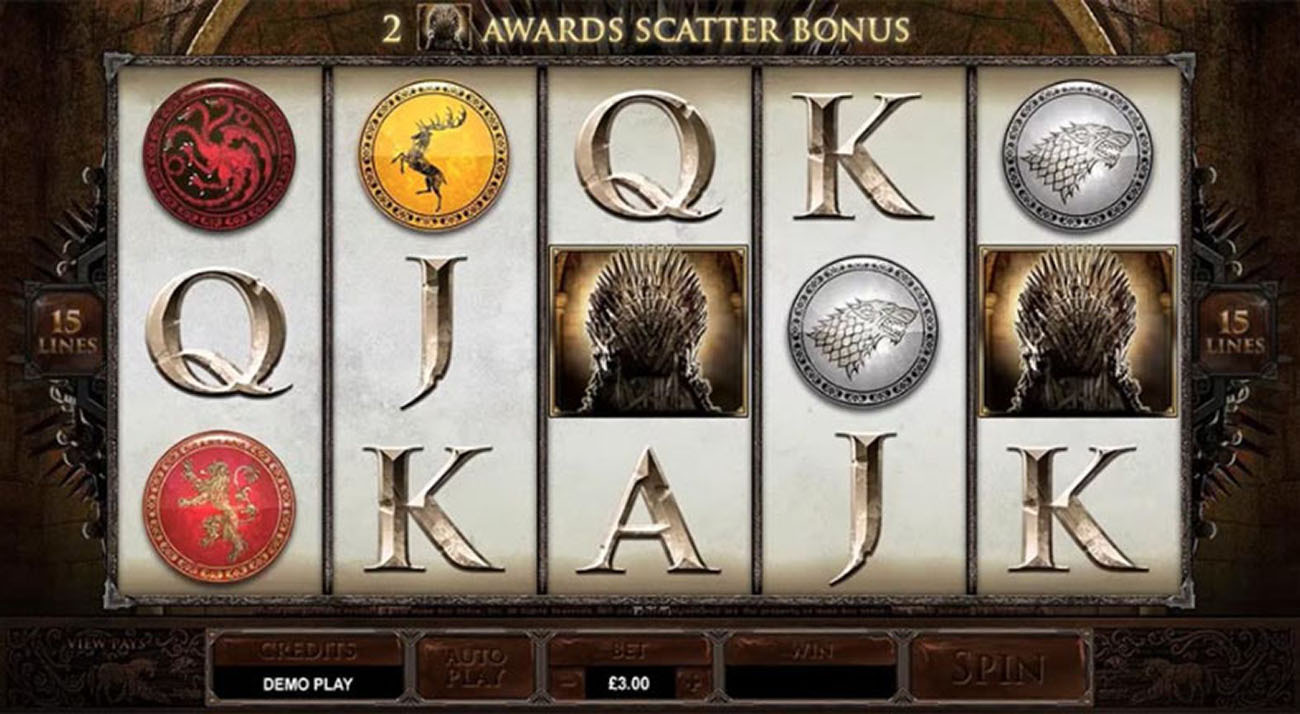 If you follow the show, Game Of Throne 243 is a must-try. The game has many features to dramatize the gameplay, with four families representing four modes of Free Spins:
Play Game of Thrones 243 for Real Money
List of Slots
| | |
| --- | --- |
| Theme | Game |
| Cartoon | Rick and Morty Wubba Lubba Dub Dub (Blueprint Gaming) |
| Game | Street Fighter II: The World Warrior (NetEnt) |
| Music | Guns 'n Roses (NetEnt) |
| Movie | Jurassic Park (Microgaming) |
| Sport | It's Time (Relax Gaming) |
| Reality Show | Survivor Megaways (Big Time Gaming) |
| TV Series | Game Of Thrones 243 (Microgaming) |