Megaclusters: The New Game Engine with Potential to Rival Megaways
Categories:
News
|
Published by:
admin
Megaclusters is a brand new slot game engine introduced in 2020 by Big Time Gaming, the company that brought us Megaways. Many people expect Megaclusters to enjoy similar success to its sibling, while others seem to dismiss this new kid on the block.
Let's take a deep dive into Megaclusters and what could be in store for its future.
What is the Megaclusters engine?
Megaclusters, in short, is the child of Megaways and Cluster Pay.
This type of release takes the layout of grid slots, which includes no payline. Instead, players win by grouping similar symbols adjacent to each other—usually 5 or more. When a winning combination is formed, the symbols involved disappear for others to replace them.
But Megaclusters fuses this concept with Megaways by having many smaller symbols replacing the original one. This way, each row and column can have a different number of symbols. Small symbols can also interact with big ones, opening up the possibilities.
A Versatile Game Engine Full of Possibilities
Among the games using Megaclusters engine, the first two slots created by Big Time Gaming best showcase the potential of Megaclusters.
Star Clusters Megacluster – Big Time Gaming
The first prototype of Megacluster came out in June of 2020. The base game has a 4×4 layout with colorful gems as symbols. Exercising the Megacluster magic, each symbol can be replaced by 4 smaller ones, expanding the slot up to a maximum of 8×8.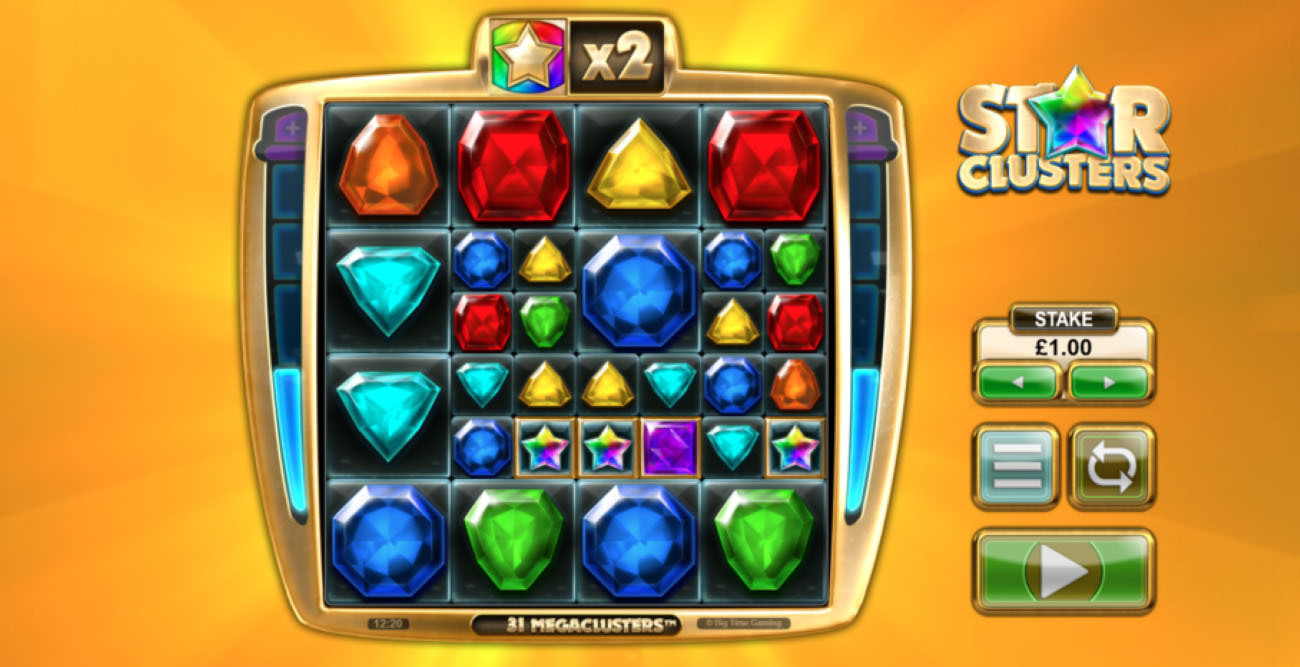 Star Clusters Megacluster has an RTP of 96.54% and a max payout of x23,000 the bet. The symbols themselves don't pay that much, but the consecutive wins more than make up for it. There is a Wild and a Gold Wild, which gathers up an increasing Multiplier each time it is part of a win.
When you get 5 or more consecutive wins, the Free Spins round is triggered. In this round, you play on a 8×8 slot, which can be expanded up to 16×16.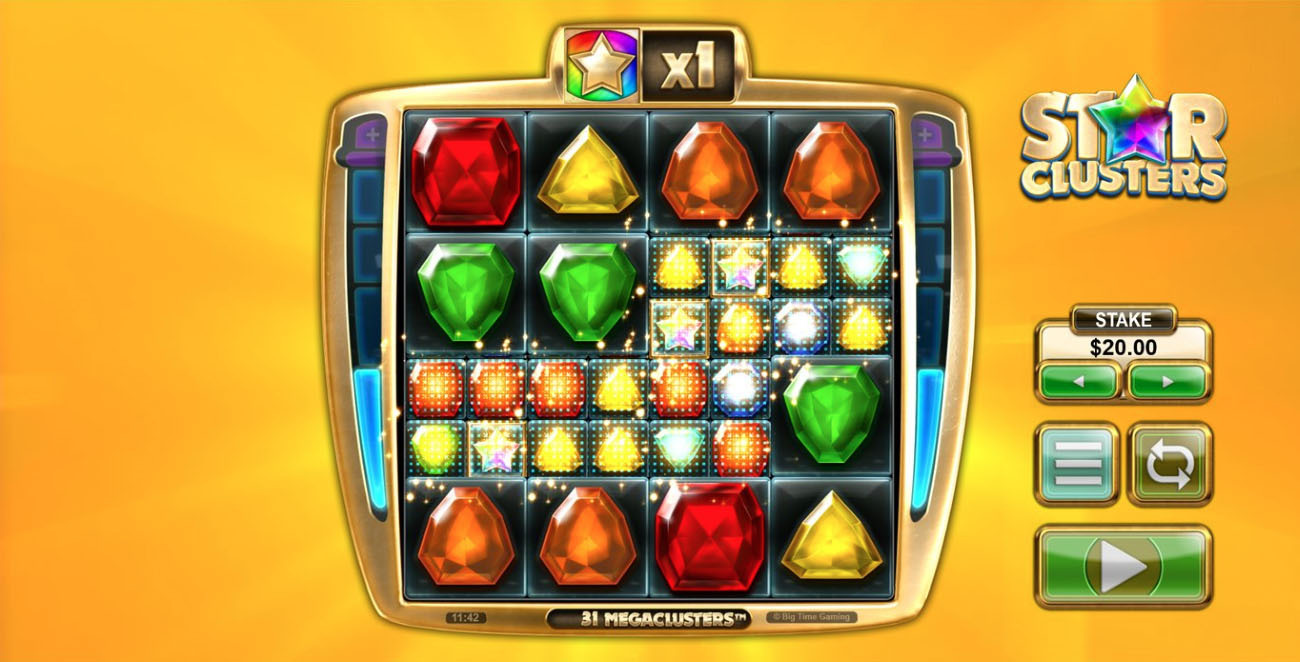 The fun about Star Clusters, or you can say the Megacluster engine, is its vast ocean of possibilities. The first win may look mediocre yet when the symbols break down into smaller ones, wins can keep happening in the most unexpected corner of the slot.
Cyberslot Megaclusters – Big Time Gaming
Cyberslot Megaclusters came out in November of 2020, following the success of Star Clusters. At first glance, the two games are like twins with similar layouts, only that Cyberslot has an 80s retro-futuristic skin.
The base game of Cyberslot is played on a 3×3 grid, but one symbol already consisted of 6 smaller ones. This ensures that despite the smaller layout, there's still a good chance to score a win. The base layout can be transformed into 9×9.
The defining factor that sets Cyberslot apart from Star Clusters is the Golden Roaming Wild. This Wild always appears on the grid and after every win, it will move to a random position. The position it was in will turn into 9 smaller symbols even if it's not involved in a win.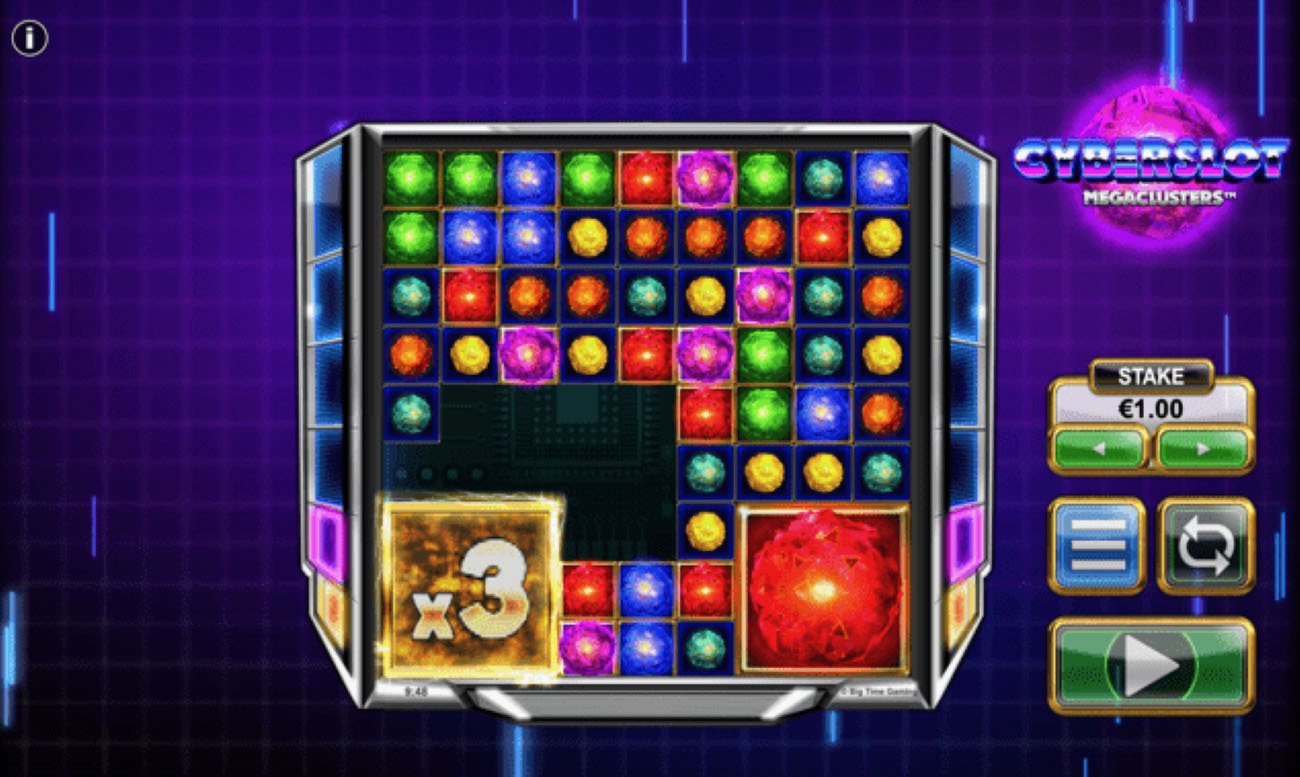 Cyberslot is even more unpredictable than its predecessor. The Roaming Wild keeps the slot in a constant switch-up. And the Free Spins round stays true to the spirit of Megacluster with a grid that can be expanded up to 18×18.
The more you play Cyberslot, the more you'll realize just how different it is from Star Clusters, or any other online slots for that matter.
How Innovative is Megaclusters Game Engine?
On the one hand, we've seen Clusters mechanics before. We've also seen Megaways slots having a different number of symbols on each reel. So Megaclusters won't feel like an alien stranger than the imagination.
On the other hand, Megaclusters is so much more than the sum of its parts. Megaclusters slot games play like it's in a different category altogether. Looking at the very first Megaclusters products, it's already easy to see how versatile this engine can be. Adjust a few details and you got yourself entirely distinguishable experiences.
If you are a fan of Megaways, do not hesitate to try Megacluster. Megaclusters easily doubles the unpredictability and the wide range of possibilities that is the backbone of Megaways.
What's in store for Megaclusters?
Relax Gaming has quickly licensed the Megaclusters engine to make their own slot: Kluster Krystals Megaclusters, which has landed on the market at the start of January 2021.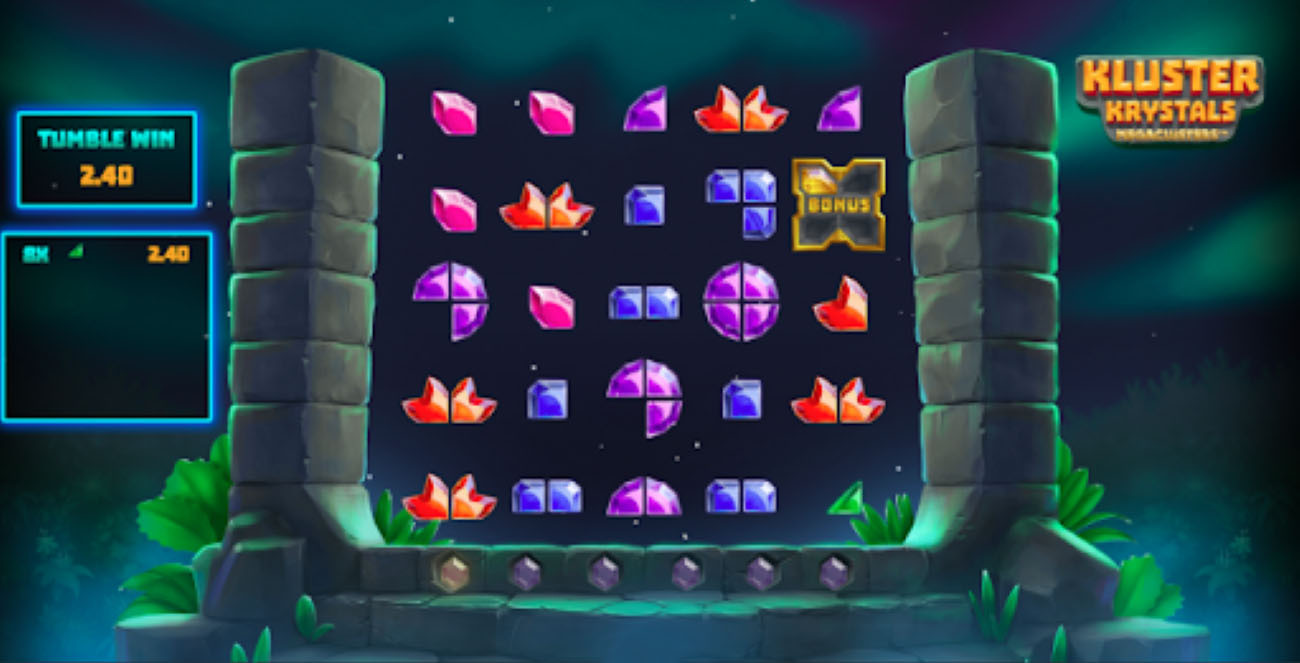 Looking at a frame from the game, you can already tell the engine has been adapted to another concept altogether. Instead of one symbol splitting into smaller ones, Kluster Krystals has Tetris-style symbols with some coming as one fraction and others as many.
It's too early to tell if Megaclusters will enjoy the same trajectory of success as Megaways, for the engine is still in its early development. Hopefully, other developers follow suit and help to evolve Megaclusters to its limit (if there is one).
Who knows, Megaclusters may very well mark the beginning of a new era.