Slot wars – Break Bones VS Undead Fortune
Categories:
News
|
Published by:
admin
Players who like Hacksaw Gaming slots will be thrilled to see who will be battling in this week's episode of slot wars. Break Bones slot is challenging the feature-infused Undead Fortune to epic bloodshed on reels.
Are bones too brittle to handle the fires of the underworld? Or have mighty guardians of the undead found their match? Let's start the new episode of slot wars and find out.
1, 2, 3 – the battle begins!
Round 1: Winning Potential
As a part of Hacksaw's 3×3 Spins series, the Break Bones slot features the exact same configuration as Fruit Duel consisting of 3 reels, 3 rows and 17 paylines. The winning potential of up to 3,333x the bet is also the same which was the main reason why this fruity game lost a battle against Alpha Eagle.
Things aren't looking good for Break Bones either since Undead Fortune comes with a 5×4 grid, 10 paylines and a maximum prize of 10,000x the stake. Its volatility is at a high level, so it has its rival slot with medium variance beaten in this segment as well.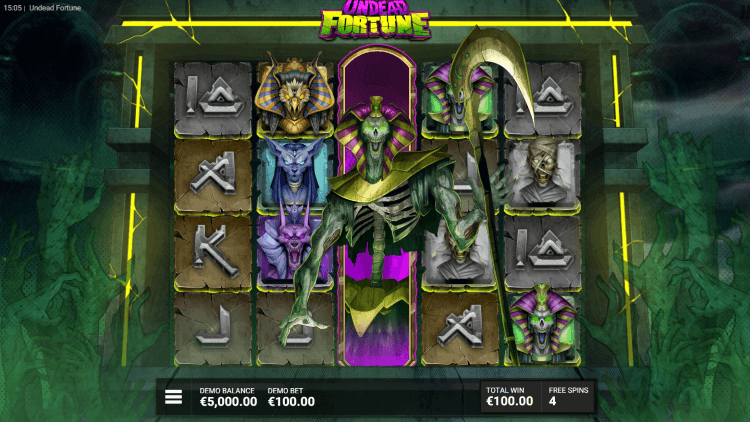 Still, when it comes to RTP, the percentages vary insignificantly. Skeleton themed-game has an RTP of 96.22%, while the visit to the underworld comes with an RTP of 96.29.
The difference in percentages is so small that doesn't have much impact on the gameplay. But if we're nitpicking Undead Fortune prevails, making it the absolute winner of this round.
Round 2: Bonus Features
Although it looks like a plain slot, Break Bones is anything but due to its special features. Hacksaw doesn't let its slots be without any extras, so this release isn't an exception.
Whenever a Wild drops on reels, there's a chance to land with a multiplier value of up to 100x. The multiplier values are added to the Global Multiplier whenever at least one Wild Multiplier lands with at least one winning line.
Next, there is the EchoSpins feature activated by the appearance of the Skeleton Hand symbol that randomly awards up to 5 spins which are a replay of the triggering spin. Any Wild Multiplier landing during EchoSpins has its values repeatedly added to the Global Multiplier that resets when the feature end.
The regular bonus round is triggered if 3 bonus symbols land together, awarding 10 free spins. During this round, the chances of activating EchoSpins are much higher compared to the base game.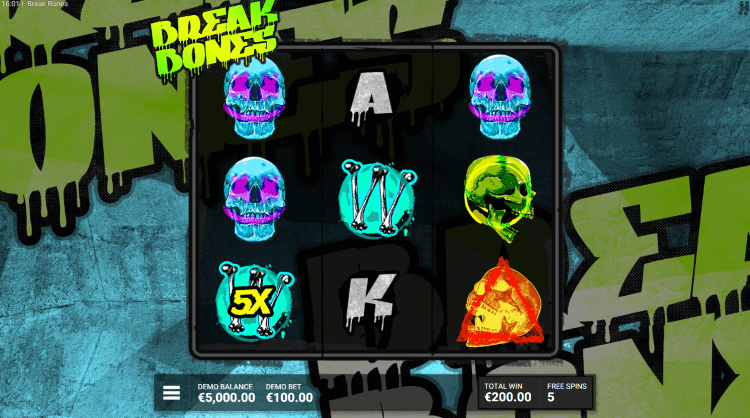 Although its rival has some strong features, in Undead Fortunes they are flying left and right. Starting with Walking Duels triggered by the appearance of Walk VS symbols. Here Wilds expand to cover the whole reel, revealing a monster and a multiplier value.
If the monster is defeated, the multiplier is applied to the whole reel, boosting any wins that pass through it. Defeating the monster also awards a respin as the expanded Walking Duel symbol moves one reel to the left unless it is blocked by another Duel symbol or the edge of the grid.
Expanding DuelReels is triggered by four Expand VS symbols landing together. Like in the previous feature, Expanding Duel symbols are Wilds and expand to cover the whole reel, displaying a monster and a multiplier.
The multiplier is saved if the monster is defeated and the Expanding duel expands one reel to the left, allowing another monster and multiplier to appear, repeating the process. In case the monster isn't defeated or Expanding Duel can't expand any further, any winning lines connected to it are multiplied by the multiplier.
Three Curse symbols landing simultaneously trigger The Curse bonus game. Players get 10 free spins with a greater chance of landing Walk VS and Expand VS symbols.
As a topping on a cake, there is The Tomb feature that begins with multiplier values displayed above each reel – some reels are locked, some active. Landing Tomb VS symbols on an active reel reveal a monster and a multiplier value of up to 200x.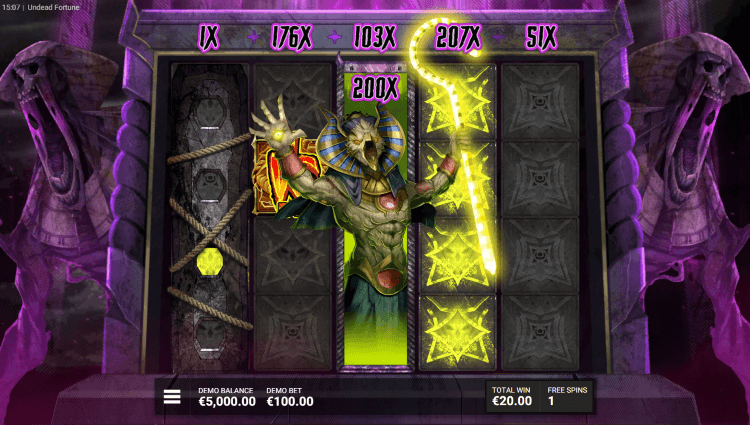 Defending the monster adds the multiplier to the value above it, while losing a duel locks the reel. Locked reels are possible to unlock again by landing 4 unlock symbols on a locked reel or if the Golden Unlock symbol appears and unlocks all reels. Epic Vs Scatter can also drop during this feature, turning the whole grid into a duel.
Both games have Bonus Buy, but in Break Bones you can only purchase regular free spins round, while Undead Fortune provides an opportunity to activate all of them for a different cost. This is just an added perk that makes the second slot the winner of this round as well due to more numerous bonus features.
Round 3: Visual and Audio Effects
These games have similar themes, but Underworld Fortune takes them to the other level. The slot tells a story much similar to the one seen in the provider's Hand of Anubis, while Break Bones combine a skeleton theme with a modern graffiti vibe, making it quite urban and interesting.
Still, the main difference in visuals regards animation and change of scenery. Since the undead guardians of tombs offer much more bonus features, the suburb animation follows them. When activated, players can experience a whole new visual presentation with guardians becoming live on the screen, taking over the reels and making the gameplay even more exciting.
However, that isn't the case with Break Bones. Here, nothing shifts when you enter the bonus round, there's no new background or special effects to keep you at the end of your seat.
And The Winner Is….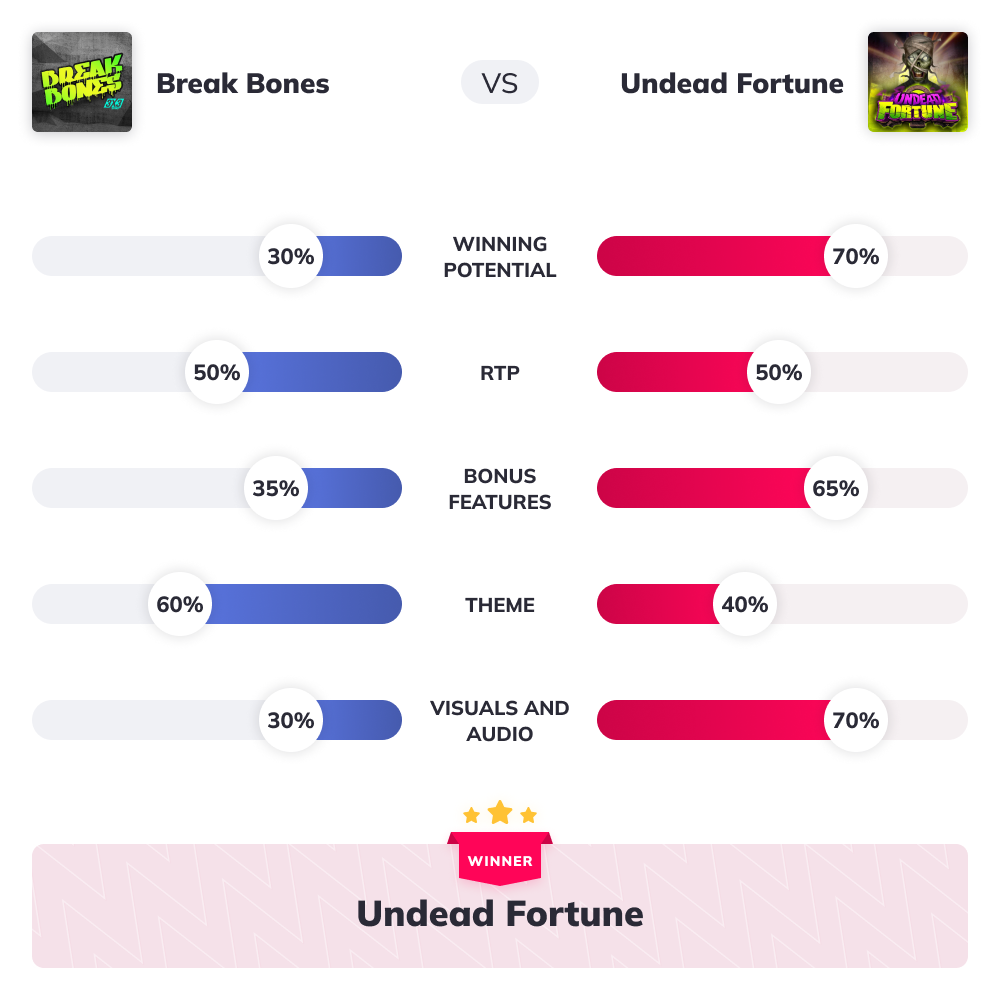 At this point, the winner of this episode of slot wars is quite clear. Not only that it has bigger winning potential and more numerous bonus features, but Underworld Fortune is also visually superior to its opponent.
Although it has been obliterated in all rounds, Break Bones is still an excellent game that stands out from its slot category. It all comes down to preferences, and these two games are simply made for completely different types of players.