Top 3 Progressive Jackpot Slots
Categories:
News
|
Published by:
admin
Those who are new to the world of online slot playing might be unfamiliar with the term 'Progressive Jackpot'. Although everybody knows the meaning behind the word 'jackpot', the progressive part can be a bit confusing. So, let's shed more light on this important phrase of the gambling glossary.
Progressive Jackpot slot is a game where the prize gets bigger every time someone places a bet until one very lucky player wins it all. The amount can be life-changing! However, choosing a slot to invest in can be quite challenging. So, save yourself some trouble and check out our list of top 3 slots with Progressive Jackpots.
Mega Moolah | Microgaming
Most people come to Progressive Jackpot slots for a big payout, and Mega Moolah has the reputation of being the "Millionaire Maker". It's a no-brainer why this slot is the first destination for many players.
| | |
| --- | --- |
| RTP | 88.12% |
| Variance | Medium |
| Biggest Jackpot Win | €18,915,721 |
Mega Moolah is a Safari-themed slot with a lower RTP than usual but don't get discouraged. This low rate is probably designed to compensate for the frequent jackpots it gives out.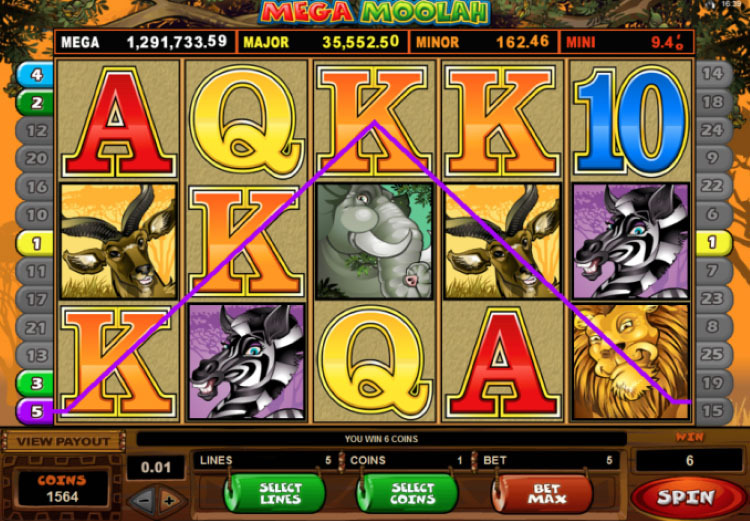 With an average Progressive Jackpot of €5.051.826, this Microgaming title is often cited as the most generous online jackpot game. There are countless articles and statistics to back up the legitimacy of this famous slot.
The game also holds the Guinness World Record for the biggest online Jackpot of €18,915,721 (23.018.730 US dollars). In short, Mega Moolah is a must-try!
Arabian Nights | NetEnt
Arabian Nights is an online slot game inspired by the famous Middle Eastern folktales. Staying faithful to the stories, this game certainly can fulfill your wish—if your wish is a million-dollar Jackpot.
| | |
| --- | --- |
| RTP | 96.25% |
| Variance | Medium-High |
| Biggest Jackpot Win | €8,635,872 |
Getting your hands on a Jackpot is no easy task. That's why Arabian Nights offer Free Spins to help you get up to 12,000x your stakes while you wait for the big fish. You do this by collecting three Magic Lamps to conjure the Genie.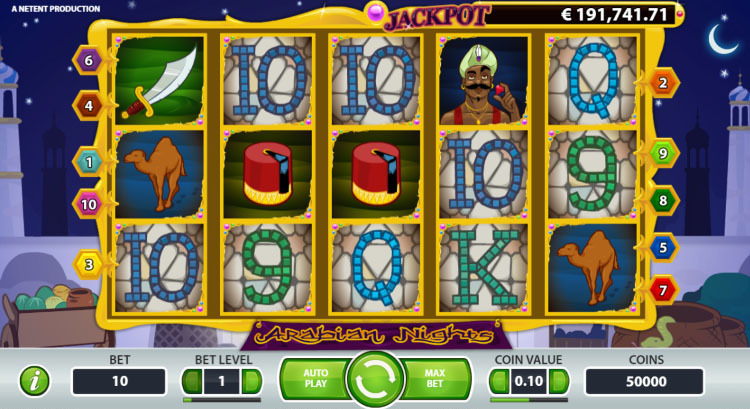 The real attraction, of course, is still the Jackpot. The average Jackpot of Arabian Night is €1,501,469, which is lower than the other games on this list. However, the biggest Progressive Jackpot win is recorded at a respectable €8,635,872, so there's still plenty of room to shoot for the stars here.
Mega Fortune | NetEnt
Mega Fortune held the record for the biggest Jackpot win of €17,860,868 for 5 years before Mega Moolah overtook it in 2018. The darling from NetEnt has been making waves since it came out.
| | |
| --- | --- |
| RTP | 96% |
| Variance | Low |
| Biggest Jackpot Win | €17,860,868 |
Although high stakes allow for better odds of winning, you can win the Jackpot of Mega Fortune at any bet size. This is good news for players who want to stretch their bankroll out and enjoy long playing sessions, no need to bet your whole account.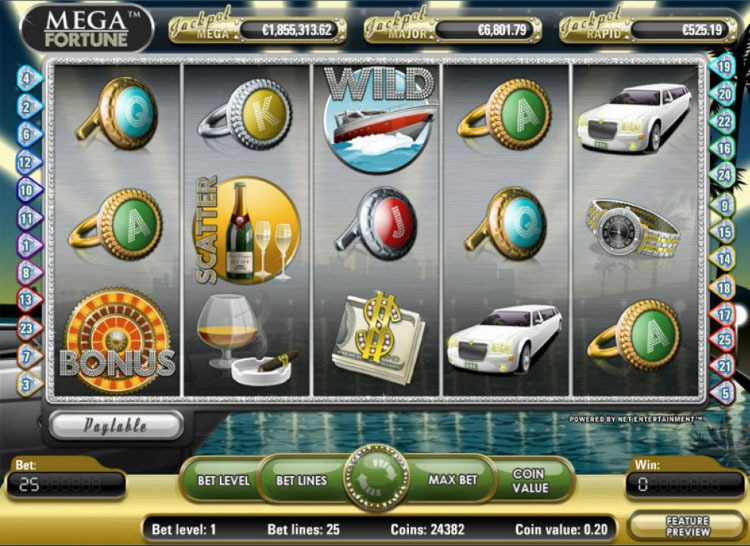 Rings and champagne to yachts and limos, this game has the extravagant look of a high-roller. After all, with a prize pot of the size it offers, it can make you one overnight.